There was a jackfruit tree in our garden. In summers,

Tuli

would put her folding cot
outside
& sleep under it. Under the tree, I mean. Not the cot. One night there was a bikot chitkar, a wierd shout & the family woke up perspiring. A jackfruit had fallen on Tuli. She was jolted from sleep & screamed with all her might.

Bhai

thought she was being devoured by the neighbourhood cat; Ma ran out to see what had happened. I slept through it all like kumbhokorner mashi, Kumbhakarna's aunt, so deep was my slumber.
The incident did nothing to abate Tuli's love for the ripe jackfruit. But the sight of a raw one did something to her. When she went to click a picture of one, to put it up here, her hand shook, there were beads of sweat on her forehead, her nostrils flared & she clicked two blurred photographs that looked like ghosts of katahal. I was happy with the recipe pics & assured her that the whole jackfruit I can get from the net. I've found two green JF hanging from a tree. Just want to see Tuli's reaction to this pic ;)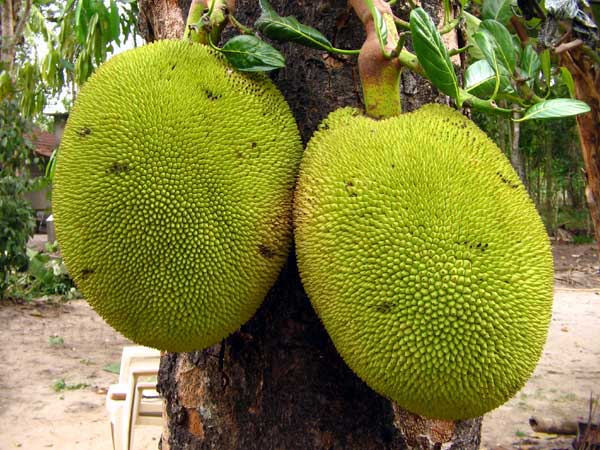 Meanwhile you take a look at the irresistible Raw Jackfruit Curry that is an able substitute for mutton. Gaach(tree) Pantha(goat) it is called in Bangla. Not for no reason.
Ingredients:
1. 1 medium Green Jackfruit - cubed
2. 1 large potato- cubed
3. 1 medium onion + 3 cloves garlic- grated/paste
4.
1 medium tomato- grated/
purée
5.
Adrak, Zeera, Dhania- ground together- 2tsp
6. 3-4 peppercorn- ground with no.5
7. Cumin seeds- 1tsp
8. Bay Leaf- 2-3
9. Red Chilli Powder- as preferred
10. Turmeric Powder- 3/4 tsp
11. Garam Masala powder/paste- 1tsp
12. Ghee- 1tsp
13. Sugar- 1tsp
14. Salt - to taste
15. Oil- to cook
How to :
1.

Cut the JF in cubes, boil them with a pinch of salt
for 10 mins
& strain the water.
2

. Shallow fry the JF cubes & keep aside.
3.

Allow cumin seeds to crackle. Add bay leaf & the cubed potatoes & saute for 5 mins.
4.

Add the onion garlic paste & fry on medium heat for 5-7 minutes.
5.

Mix the adrak, zeera dhania & peppercorn paste to the onion garlic paste & fry till oil leaves pan. Add
turmeric powder
.
6.

Add the grated tomato to the masala & fry well till aroma wafts.
7.

Add the fried JF pieces to this masala potato, fry for 3-4 minutes so that the masalas mix well. Add sugar, salt & water, cover the wok & cook on medium for 8-10 mins.
If you are pressure cooking , do it till one whistle.
When the lid opens, add ghee & garam masala, simmer for 2 minutes & remove from flame.
Green Jack Fruit curry goes best with plain rice. Feel free to try it with roti or parantha if you want.
Anyone planning to sleep under the JF tree this summer ?